Powerful and enhanced DNC software/NC file managment
RealVision's DNC software, WebDNC, is the most advanced and powerful DNC communication system available today. It includes all the features of a standard high-end DNC system plus NC program revision control, tool list management, part and job databases, integrated machine tool-life monitoring, NC programming, data collection, tool integration, and document/drawing linking. WebDNC integrates seamlessly with RealVision ToolSet presetting software.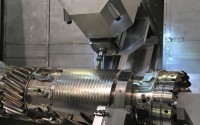 RealVision WebDNC™ features:
Automatic machine monitoring alerts you when there is a problem
Download tool lists right at the machine
Download tool offsets right at the machine
Submit maintenance requests right from the machine
RealVision's DNC software, WebDNC offers much more than traditional DNC software systems. WebDNC is designed to work in conjunction with any of the leading CNC and DNC networking and data communication hardware and software, barcode scanners, RFID tags, and the monitoring screen dynamically displays activity for all machines.
Simplicity is key
You start by defining your NC tape in the header and save, copy, or drag and drop the file into your input folder and the system does the rest! Your information is extracted from the tape file then moved to the proper directory, available for viewing on a Web browser, such as Internet Explorer or Google Chrome. That means you can access all of your CNC files, set up instructions, tool lists and related documentation, schedule production on each machine, and even monitor the real-time activities of each machine in your shop—directly from any computer or mobile device.
RealVision WebDNC is comprised of four integrated modules:
RV ProgrammerAssist™  Provides tools to utilize the features WebDNC has to offer such as NC file management, tooling selection, and an NC program header build.
RV RemoteDNC™  Works in the background gathering information and feeding it to your choice of database – Oracle, MS SQL or X-Base.
RV DNCView™  Provides instant access to tape definition information such as program revision, part number, tool list, job info, and machine activity via a Web browser.
RV DNCAssist™  Simplifies the populating of databases with program part, operation and tooling information.
DNCView,  is also available as an independent program to assist existing DNC software that often comes included with the purchase of CNC machinery or legacy systems currently in place. Many of our customers have found the features of DNCView to greatly assist their workflow and capabilities.  DNCView allows your company to maintain revision control on the NC files as well as related documentation.  The program creates, manages, and links the following related document types to the NC file: set up sheets (creates or links outside), work instructions, SPC, NC files, tool lists, gage lists, fixture list, and tool offset tables.
WebDNC seamlessly integrates with RealVision's  ToolManager and DocManager software available together in the ProDoctivity Suite.
We offer personalized online demos to learn about our systems and to see if they are the right fit for you. Call us today to learn more!
Download the WebDNC datasheet for a more detailed look at the program.
Download the DNCView datasheet for a more detailed look at the program.